Heating Controls
Heating Controls Case Study
Patrick has a four bedroom detached house with a floor area of 150 metre squared and had an annual heating bill of €1,700. Despite having installed a new boiler several years earlier, Patrick had very poor control of the system. He had no time or temperature control of the space and water heating and could not heat water without turning on all the radiators in the house or the electric immersion heater. This meant both heating and hot water were left on for long periods throughout the year, unnecessarily increasing the heating bill.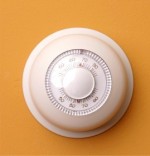 Patrick decided to get some simple heating controls installed in his house in order to significantly reduce his annual energy consumption and heating bill. The heating system was divided into 2 zones (1 for space heating and 1 for hot water) by getting his plumber to install a 7-day programmer with room and cylinder thermostats and a motorised control valve. Patrick can now heat his water without having to turn on radiators or the electric immersion heater and the programmable timer also allows him much greater control of when the heating should operate in each zone. Before installing these control measures, Patrick used to regularly leave the heating system running all night to make sure that house was warm in the morning and that there was enough hot water for his family to have showers.
The installation of these new heating control measures means that he has much greater control over his heating system and his annual fuel bill has reduced by 30% - an annual saving of over €500 per year. Typical costs for this type of upgrade are approx. €800 - €1,000 (excluding grant). Patrick was also able to secure grant aid from the
SEI Home Energy Saving Scheme (HES)
to help him with the cost of his heating controls upgrade
Reduce your energy usage by up to 30% with easy to use heating controls
Heating controls can help you to accurately match your space heating and hot water schedules to the working and living patterns in your house i.e. when heat and hot water are required, it is there; when it is not, it is turned off.
Your heating systems should be split into two independently controlled "zones"; 'Space Heating Zone' and 'Domestic HotWater Zone'. You are then able to heat your domestic hot water without being forced to turn on your space heating. Additional zones can used in large homes to split upstairs and downstairs or living areas and bedrooms.
Benefits of Heating Controls
Heating bills are reduced

Greenhouse Gas emissions are reduced

Comfort levels are improved
Also you don't have to heat hot water if you are not using it. Your new controls will only heat water when you need it.
Heating Controls Check List
You can do a quick check on your heating control requirements by answering the questions below. If you answer No to all or most of the questions below, it would be beneficial for you to install some heating controls:
Can you heat your domestic hot water without switching on your radiators or an electric immersion heater?

Can you turn on your heating without heating your domestic hot water?

Can you easily adjust the heat output from radiators in the rooms you use most often?

Have you temperature control on your boiler?

Have you time control on your boiler that you can set for different days of the week?

Have you a separate temperature control for your hot water cylinder?

Have you a separate time control on your hot water cylinder?
Contact
Joseph C Kenny Plumbing & Heating for your heating control upgrade and all your heating & plumbing needs.